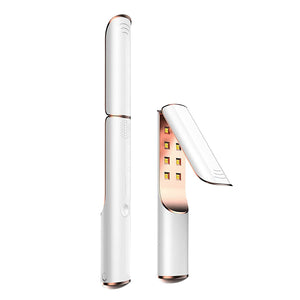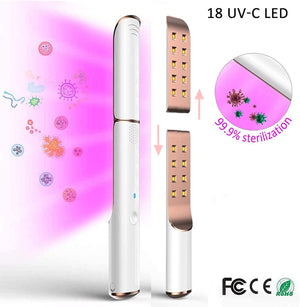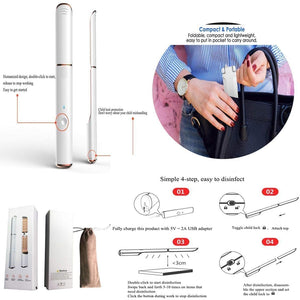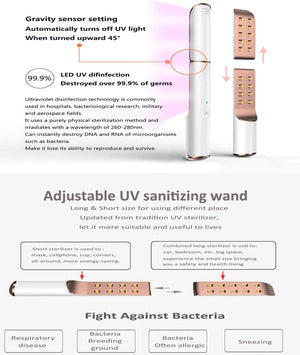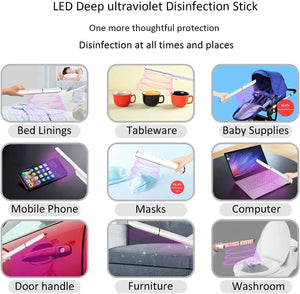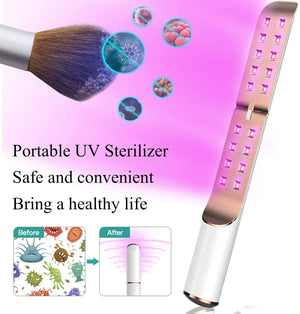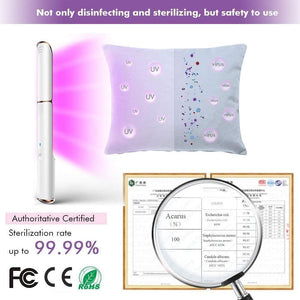 UV-C Multipurpose Portable Wand - Qty 10 Clearance Price
Our top-selling, stylish UVC wands are on clearance!  We have a surplus of inventory.  Contact us if a large quantity is required for a conference give-away or gifts.
GREATER POWER:

 18 pcs UV-C LED lights with a wavelength of 260--285 nm providing a stronger and more powerful function than UV-A and UV-B, which also means improved efficiency, Our Led UV Lamp lifespan is tested to provide more than 8000+ hours of use. It can be used for about 2 hours on a single charge and only takes 10 seconds per use, which means that it can be used 720 times when fully charged to meet the whole family's needs.

EXTENSIVE FUNCTIONS:

 Removable spare LED clean Germs using UV-C light and can maintain the cleanliness of commercial items or housewares in any room, effectively improving the living environment. dirty things are Used regularly on surfaces and items, People can't see them with the naked eye but we can use our ultraviolet light to eliminate them, which will help to keep your home safe without the risk of chemical contamination, Designed for fast and effective use.

SAFETY DESIGN:

 The UV lamp is equipped with a gravity sensing device, that turns the wand off automatically when the UV lamp faces upwards, the light will never turn on if it is pointed towards you or right, left, or in front so as to prevent slight damage to the eyes. So please do not assume that the product is faulty. Do not point at people or animals during use to ensure safety.

SIMPLE AND EFFICIENT:

 The UV disinfection wand can clean cloth items, mobile phones, iPads, toys, toothbrushes, remote controls, door handles, toilet covers, cups, steering wheels, hotel and home, closets, toilets, home, office, travel, computer laptop, keyboard, bedding, crawling mat, Crib, pet supplies, living room bedroom bathroom kitchen refrigerator, shoe cabinet, car, pet nest, etc.

EASY TO USE

: The UV-c light are CE, FCC, RoHS certified and safer in use. This is a particularly exquisite wand that is nice to the touch and feel.  It features ABS material and advanced UV-C led light beads to ensure better effect and durability. With a one-button start, the UV sterilizer starts to work for ease of operation. For top power double-click the button and when the indicator turns blue, you can use it to scan anywhere to disinfect an area or item.
---
Frequently Bought Together