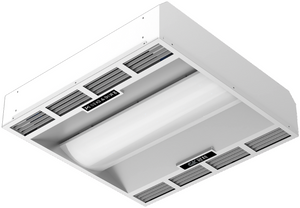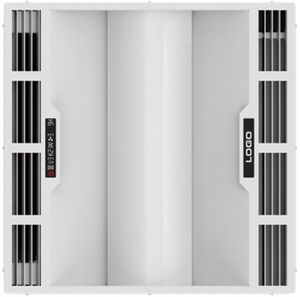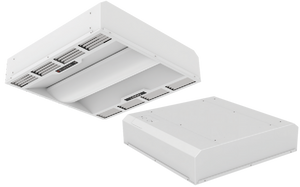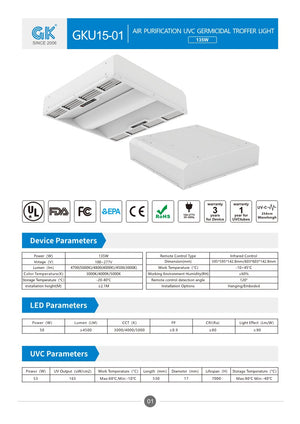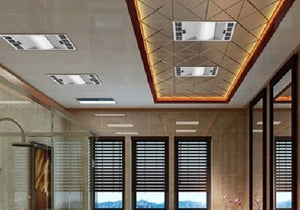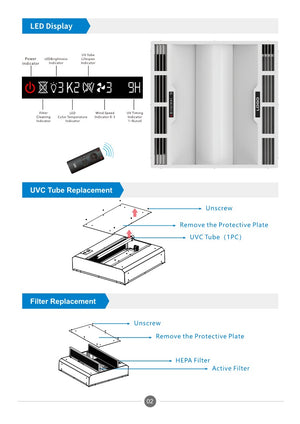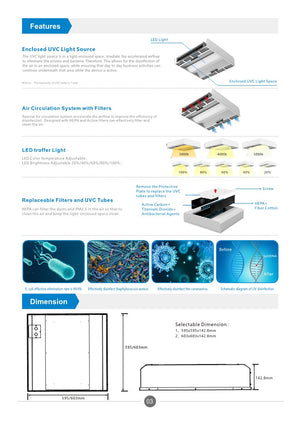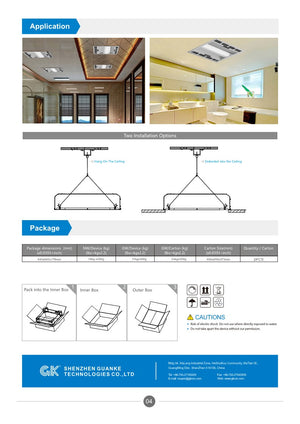 HEPA Air Purifier and Hybrid LED/UVC Troffer Light
Improve ventilation and airflow with a safe hybrid, ultraviolet sterilizing, and LED linear lights.
Model - GK-U15-1 (UVC hybrid direct LED troffer and air purifier)
The new GK U15 Air Purifier and LED light to deliver an innovative solution for schools and businesses.   Designed to filter and sterilize particles in the air, improve airflow, and complement or replace linear hanging ceiling lights.  The device utilizes HEPA filtration, UVC light, and energy-efficient 145Watt programmable LED high bay lighting.
Proven Germicidal Protection
Reduce colds and cases of flu with a commercial-grade UVC light (254nm) which safely disinfects the ceiling space and circulates sanitized air throughout a room. 
Award-Winning Lighting
GK has been producing commercial lighting since 2006 and LED technology for the past 10 years.  GK's lights are consistently recognized for their product quality, excellence, and innovations and in 2020 won the Reddot Award for its LED technology.  The Hybrid LED light produces 145 watts with 5 levels of brightness from 20% to 100% power and 3 CCT settings (3000k/4000k/5000k).  Energy-efficient, reliable and comes with a 3-year warranty.
 Air-flow Management System
Three powerful fans increase air circulation and air disinfection. These fans circulate the upper room sterilized air throughout the environment at approximately 50 CFM per fixture. 
Ease of Use
The GK Hybrid Direct LED/UVC Sterilizing Light can be managed with a remote control allowing a user to control multiple fixtures simultaneously.  Alternatively, the units can be managed with any adjustable wall controller.  Powered with 110V or 220V
Tested and certified by UL, FCC,
 

and the EPA.
We are excited to announce a revolutionary commercial product that provides energy-efficient 145 Watt LED high bay lighting coupled with powerful HEPA filtration and germicidal ultra-violet light to sanitize the air.
Configurable to network multiple lights to a single remote control affording easy management of large spaces or an entire facility.  
 Contact us to scope a solution that's right for your environment at service@earthwiseuv.com. Our technicians are knowledgeable about this, and all our sanitizing products.
Product Benefits
Commercial-rated light and ventilation system designed for clinical, schools, and other professional use.
Augment or replace existing linear lights with energy-efficient, Smart LED lights with the added advantage of increasing the airflow of an entire room, while disinfecting the air.
Designed with safety as the priority, with a remote control to control LED light intensity, fan speeds, and on/off function of the UVC lamps.
Works with standard 100V to 270V electrical power sources. 

US compliance with FCC, UL, and EPA Listed, CE certified.
Commercial LED lighting and UVC sterilizing lamp: can safely be used in any environment with ceilings of 8 feet or higher. 
Utilizes (2) 30 watts 253.7nm low-pressure mercury quartz tube lamps the industry standard for biological pathogen sterilization.
Technical Details
※ Air purification UVC germicidal troffer light

※ Wattage: 145W 

※ Voltage: 100V-277V AC

※ Product Size: L603*W603*H142.8 mm OR L595*W595*H142.8 mm

※ Wavelength:254nm

※ CCT selectable: 3000K/4000K/5000K

※ Brightness adjustable: 20% to 100%

※ 1 unit built-in centrifugal fan,fan speed adjustable: 1 to 3

※ 1 piece digital screen

※ Accessory: one piece remote control

※ Installation: embedded installation,Hanging

※ Certificate: UL,EPA,FDA,FCC & CE,RoHS

※ Warranty: 1 year for UVC,3 years for LED
---
Frequently Bought Together